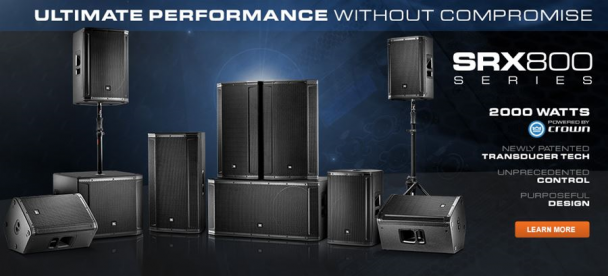 JBL Professional has announced their new SRX800 Series portable powered loudspeakers at the 2015 NAMM show. The SRX800 Series incorporates JBL transducers and built-in Crown DriveCore amplifiers to deliver up to 2000 watts of high-quality sound with user-configurable DSP speaker-tuning capability.
Peak Output Power
Like the PRX700 Series, JBL state the output in peak power instead of RMS power. Remember that peak power is short-term power that an amplifier is capable of outputting during a short burst of high-energy. RMS is the continuous power that the amplifier is capable of outputting for long periods.
Full Range Models
The full range models (SRX812P, SRX815P & SRX535P) deliver 2000 watts. This is 2x 750 watts (1500watt  continuous) as stated in the SRX812p Spec Sheet. Using the analysis of the PRX700 series in a previous blog article, the estimated RMS output handling of these full range models is approximately 850 – 900 watts.
Subwoofer Models
JBL claim that they have produced "the world's only dual 18-inch powered subwoofer at this price point". This means it should be cheaper than the RCF SUB 8006-AS dual 18-inch powered subwoofer.
The subwoofer models (SRX818SP & SRX828SP) deliver 1000 and 2000 watts. This means each 18in woofer is powered by 500 watts RMS. This is low in comparison to other powered subwoofer system like the QSC KW181, QSC KLA 181 or RCF 4Pro8003-AS all powered by 1000 watts RMS.
JBL have returned to Crown for the amplification in the SRX Series using there DriveCore technology. Crown were dropped from the PRX 700 Series and replaced with a fan cooled JBL amplifier which is known to be noisy.
Ethercon, iOS and Andriod
The SRX 800 Series has a user-configurable DSP and HiQnet Network control options which can be controlled by iOS and Andriod apps. This is a first for portable powered loudspeaker linked together using EtherCON cables. This may limit to need for loudspeaker management systems like the DBX DriveRack Series.
Final Thoughts
Excluding the deceptive marketing stating the output in peak power, the SRX 800 Series is an excellent product. The Crown DriveCore amplication, the high SPL output and  user-configurable controls are all very exciting. The SRX 812P or SRX 815P are now the top choice to replace our JBL PRX 512 loudspeakers.
EtherCON
JBL SRX800
Peak Power Rating
RMS Power Rating
User-configurable DSP