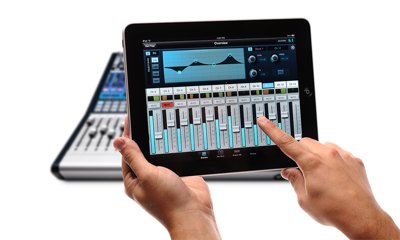 Live music has been making a come back over the last few years. Easing this come back is the transition of live sound mixing consoles from analogue to digital. Digital mixers have given sound engineers much more flexibility to control sound in many areas. One area is utilising tablet devices to remote control digital mixing consoles. I say tablet devices but it's currently limited to the Apple iPad.
iPad control Apps are available for the majority of digital mixing consoles on the market.  This has been spearheaded by industry standard manufacturers with the following Apps:-
StageMix for the Yamaha CL, LS9 and M7CL Series
MixPad for the Allen & Heath  iLive and GLD Series
ViSi Remote for the SoundCraft Si Compact and Vi Series
iPad Control for the Roland V-Mixing Systems
Mixtender for the Midas PRO Series and XL8 consoles
Lower end manufacturers are also providing Apps:-
StudioLive™ Remote for the Presonus StudioLive
XiControl iPad® for the Behringer X32 console.
These iPad Apps give sound engineers the option the leave their console position and move around the venue to adjust the sound. For example, it can be used if a sound engineer is mixing the sound for stage and main auditorium from the front of house console. They would be able to setup the sound for the stage using the iPad standing next to each musician or vocalist on the stage
Sound engineers and PA companies have embraced digital mixing technology. Utilising iPad remote control Apps will help in the industry that constantly demands better sounds. We regularly uses the Yamaha LS9 and sees the StageMix iPad App as an important tool to improve the overall sound quality.
A further trend uses an iPad as a digital audio workstation (DAW) control surface. No other controls exists apart from the physical inputs. One such product is the Mackie DL1608 16-Channel Digital Live Sound Mixer with iPad® Control. This product has potential and could possibly herald the beginning of other similar devices, especially at the lower end of the market.
Digital Mixer
iPad apps