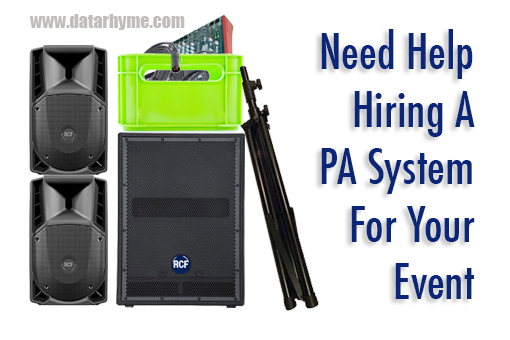 Do you need help hiring the correct PA system for your event?
You've got no idea what you need. You confused by watts and woofers. Try our PA system selector below to provide you with easy to understanding information on the type of system you'll need for your event.
Note that all our systems including the following:
Delivery, set-up and collection is included as standard.
We only charge a small distance fee – See charges.
We supply an experienced technician to setup, test and tear down each system.
We carry public liability insurance up to £1M and we PAT test our equipment.
We only supply equipment from well know industry brands (JBL, Allen Heath, etc..).
Select your event type – spoken word, background music, live performing, live band, party / dance. Then select the audience size and Click 'Find A System'.
PA Hire Package Selector

Let us help you choose a PA system for your event.
event planning
pa hire help