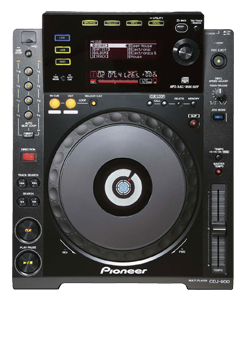 Professional Digital CD Deck
This item is available for hire with the following PA hire packages.

Party 120

DJ Party PA system for up to 120 people - 2400watts
Hire this PA system offering high quality sound for smaller DJ party events.

• Available from £115.00

---

Party 180

DJ Party PA system for up to 180 people - 2500watts
Hire this PA system offering high quality sound for a variety of DJ party events.

• Available from £125.00

---

Party 260

DJ Party PA system for up to 260 people - 3600watts
Hire this PA system offering thumping bass for DJ party and dance events.

• Available from £155.00

---
The CDJ-900 accompanies the launch of the new range-topping CDJ-2000 player and is loaded with many shared features. It can play from various different music sources, including CD and USB storage devices. The CDJ-900 is rekordbox-ready or you can use the USB-HID interface to control the DJ software of your choice.
USB playback
It still plays your MP3, AAC, WAV and AIFF files stored on USB devices.
Rekordbox DJ
You can use this product to control rekordbox dj DJ software. rekordbox dj is a rekordbox Plus Pack that unleashes performance features including Hot Cues, Sampler, Slicer, Sound Colour FX, Beat FX, Beat Jump and Pad FX. Simply buy rekordbox dj, activate your licence key, and start DJing.
Select songs easily
The large screen displays track information including title, artist and BPM and waveforms, while the rotary knob makes browsing and selecting tracks a breeze.
https://www.pioneerdj.com/en-gb/product/player/archive/cdj-900/black/overview/
Disclaimer: - This text (the product description) may have been copied from the manufacturer's website.