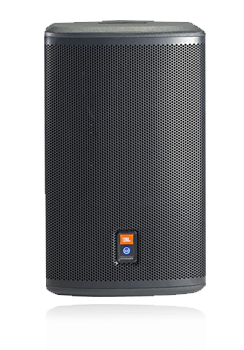 12in Active Loudspeaker
This item is available for hire with the following PA hire packages.
PRX512M is the most compact and versatile speaker in the PRX500 Series. It has been designed to deliver the most performance for its weight and size as both a stage monitor and a front of house main PA. Two user selectable EQ settings are provided to optimize the system for either application. With a dual socket pole mount the PRX512M is a perfect match with a PRX518S subwoofer, offering a high performance self-powered sub/sat system.

The PRX512M is a self-powered, lightweight two-way multipurpose loudspeaker system. The PRX512M is comprised of a 262F 305 mm (12") Differential Drive woofer, a 2408H 37.5 mm (1.5 in) annular polymer diaphragm, neodymium compression driver mounted to a 70 by 70 horn, all driven by a multichannel Crown International Class-D digital power amplifier. A propriety DSP chip is at the core of a fully featured input section, providing user selectable system EQ, protection, input sensitivity selection, crossover functionality, dynamic limiting and discrete component optimization.

Component: JBL 262F 380 mm (12 in) woofer / JBL 2408F 37.5 mm (1.5 in) compression driver
Power handling capacity (RMS / peak): 500 W / 1000 W
Max. sound pressure: 133 dB SPL
Frequency response (-3dB): 46 Hz / 76 Hz - 20 kHz
Nominal dispersion angle (h x v): 70 x 70 CD

http://www.jblpro.com/catalog/General/Product.aspx?PId=45&MId=3
Disclaimer: - This text (the product description) may have been copied from the manufacturer's website.